The Pursuit and Support of Creativity
Black Star Sessions
Black Star Sessions are the pursuit and support of creativity. What is creativity? While we're no authority on that, we do recognize when an individual or group is doing something that inspires us or completely rocks our world. We can feel it when we hear a piece of music, look at a work of art, read an amazing book, watch a spectacular movie, or witness something totally different and unique. So with respect, and in honor of big dreams, we salute these ideas. We hope you will take a gander and perhaps be inspired. Enjoy beer.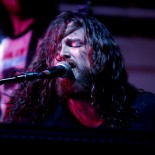 Sessions 1
J Roddy Walston & The Business
J Roddy is one of those rare bands that comes on to the scene; and you try to place them into a trend or a fad but for some reason you can't. You know they are not a flash in the pan. They don't try to sound like any body else.